A Comprehensive 11 point Checklist for International Students – Canada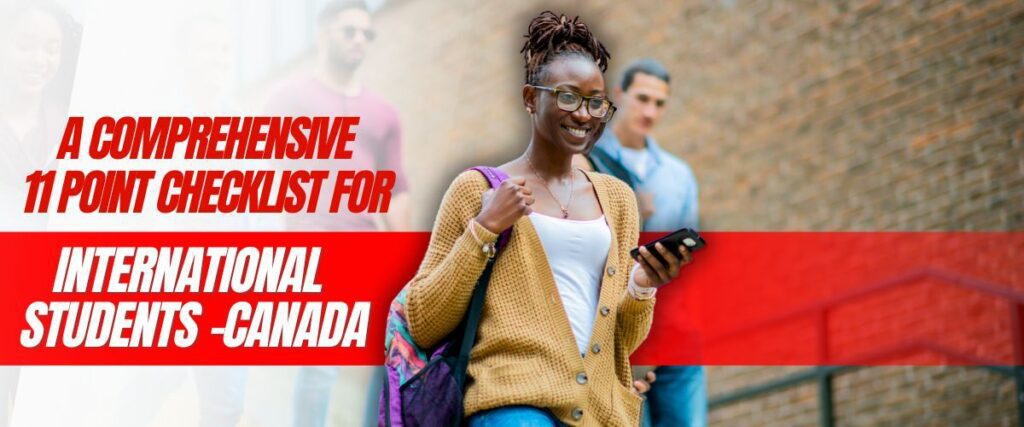 Studying in Canada as an international student is a transformative and thrilling experience. To ensure a seamless transition, it's advisable to follow a series of recommended steps. Here's a comprehensive checklist to guide you before embarking on your educational journey in Canada.
Receive Admission Confirmation: Begin by confirming your acceptance from a designated learning institution (DLI) in Canada. This confirmation is crucial for applying for a study permit, a requirement for international students seeking to study in Canada.
Apply for a Study Permit: After securing your acceptance letter, the next step involves applying for a study permit. It's important to determine your eligibility by referring to the guidelines set forth by the Canadian government. Once eligible, gather essential documents such as your acceptance letter, passport, and proof of financial support. The application can be submitted online.
Note: Expedited processing through the Student Direct Stream (SDS) is possible for residents of specified countries who fulfill specific criteria.
Secure Health Insurance Coverage: Acquiring health insurance is mandatory for international students. It's vital to arrange for health coverage before arriving in Canada to safeguard against emergencies and unforeseen medical expenses. Research the health insurance options available in your intended province of study.
Compile Essential Documents: Before departing for Canada, ensure you have all important documents in order. This includes your passport, acceptance letter, travel and health insurance details, bank statements, and vaccination records. Keeping digital copies is recommended to prepare for potential loss or theft.
Explore Accommodation Options: Finding suitable housing is pivotal prior to commencing studies in Canada. Research various housing options, ranging from university residences to apartment rentals. Planning and budgeting for accommodation costs, which can vary based on location and type of housing, is crucial.
Establishing Banking Relations: Initiating a bank account in Canada as an international student is a fundamental step. It provides access to essential services like wire transfers, currency exchange, and debit/credit cards. Carefully evaluate available options, considering rates, fees, and student discounts.
Set Up a Secure Investment Account: Opening a Guaranteed Investment Certificate (GIC) is a secure means to fund your education and living expenses in Canada. Additionally, it can expedite your international study permit application through the Student Direct Stream (SDS). Ensure the chosen financial institution offers an International Student GIC that meets SDS criteria.
Familiarize Yourself with Canadian Culture: Ahead of your arrival, acquaint yourself with Canada's culture, customs, and laws. This preparation will help ease your transition and adapt to your new environment. Research online, attend orientation sessions, or connect with fellow international students for guidance.
Understand Educational and Social Support: Gain insight into the academic and social support systems provided by your educational institution. Familiarize yourself with available resources, counseling services, and extracurricular activities to enhance your overall experience.
Prepare for Weather Variability: Canada's climate can vary significantly by region and season. Research the weather conditions in your chosen study location and pack suitable clothing to stay comfortable throughout the year.
Learn Local Transportation Options: Familiarize yourself with the local transportation system, including buses, trains, and subways, to facilitate easy commuting between your accommodation and the educational institution.