Understanding the Ontario Job Market – July 2023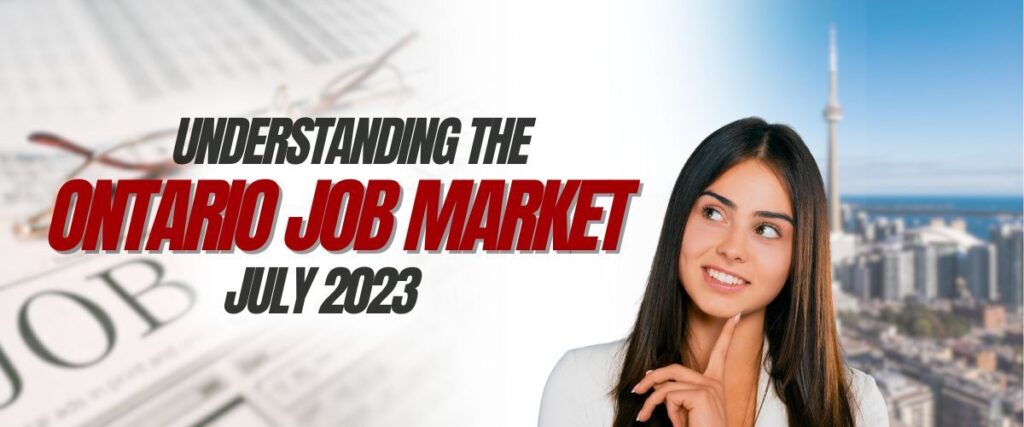 If you've been curious about how the job market in Ontario is doing, you're in the right place. Let's break down the latest updates from July 2023 in simple terms so that everyone can grasp what's happening.
Employment Numbers: Steady but Noteworthy Changes
In July 2023, the number of people with jobs in Ontario stayed mostly the same, dropping by a tiny 2,000. This tiny dip was seen in both full-time and part-time jobs. The good news is that the unemployment rate, which tells us the percentage of people without jobs, improved just a bit, going down to 5.6%.
Youth and Gender Impact
For young people aged 15 to 24, the situation improved even more. Their unemployment rate dropped from 13.8% to 12.2%. But, interestingly, this improvement was greater for young men, with a significant drop, compared to young women where the drop was smaller.
Which Sectors Are Affected?
The job market can be divided into different areas based on what industries people work in. In July 2023, the "goods-producing" sector, which includes industries like manufacturing, saw a rise in employment. However, the "services-producing" sector, including jobs like public administration and finance, faced a slight decline.
Manufacturing: Some Ups and Downs
The manufacturing industry in Ontario had been growing for a few months, with an increase of 1.0% in July. However, there were some signs of trouble as the S&P Global Canada Manufacturing PMI showed contraction for the third month due to things like high interest rates. Some good news came with General Motors Canada's plan to create new jobs by making electric vehicle battery modules.
Construction: A Bit of a Setback
In July 2023, employment in construction decreased by 1.4%. This wasn't the first time; it had dropped for the fifth time in six months. Although there were exciting projects like the South Niagara Hospital and upgrades at VIA Rail Canada's Toronto Maintenance Centre, the construction industry has been facing challenges due to labor shortages and retirements.
Information, Culture, and Recreation: Setback Due to Strikes
In this sector, which covers areas like entertainment and media, jobs decreased by 2.4%. This decline happened for the second month in a row. Strikes in the U.S. by actors and screenwriters had an impact, especially on Canadian workers involved in U.S.-based film and TV productions.
Different Places, Different Rates
In Ontario, job opportunities vary by location. The unemployment rate was the lowest in Muskoka-Kawarthas and the highest in Toronto. This shows that job prospects can differ from one area to another.
The job market in Ontario during July 2023 showed both positive and negative trends. While some sectors like manufacturing were on the rise, others like construction and information suffered setbacks. Young people saw improved unemployment rates, and different regions had varying job conditions. These ups and downs are a regular part of how the job market works, influenced by factors like the economy and industry changes.
Remember, job markets can change over time, so staying informed is important whether you're looking for a job, planning a career, or just curious about how things are going in Ontario.
If you want more detailed information, you can always visit jobbank.gc.ca.